A common problem with Outlook Express is that it sometimes disconnects you every time your check your mail. Very annoying but simple to fix . This is caused by a setting in Outlook Express , Not a problem with the service.
To solve this just follow the instructions below, if you have questions give us a call and we can talk you thru this over the phone.
These steps will assist in helping you change the setting that disconnects your dial up connection each time you send and receive your email with Outlook Express. Please note that you do not have to be connected to the internet while making these changes.
1. Open Outlook Express.
2. Click on Tools and Click on Options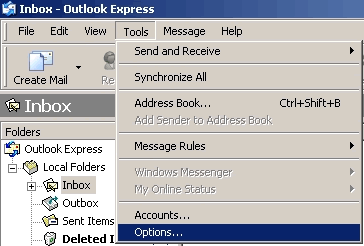 3. Click on the Connection Tab and look for a check-mark beside "Hang up after sending and receiving".

4. If there is a check-mark then simply uncheck it, and Click OK to save your changes. Close Outlook Express Connect to the internet and check your Email. You should no longer be disconnected after doing this.

If you have any Questions feel free to call us. 716-934-4923